Did You Know You Can Get Your Old Family Photos On Any Device?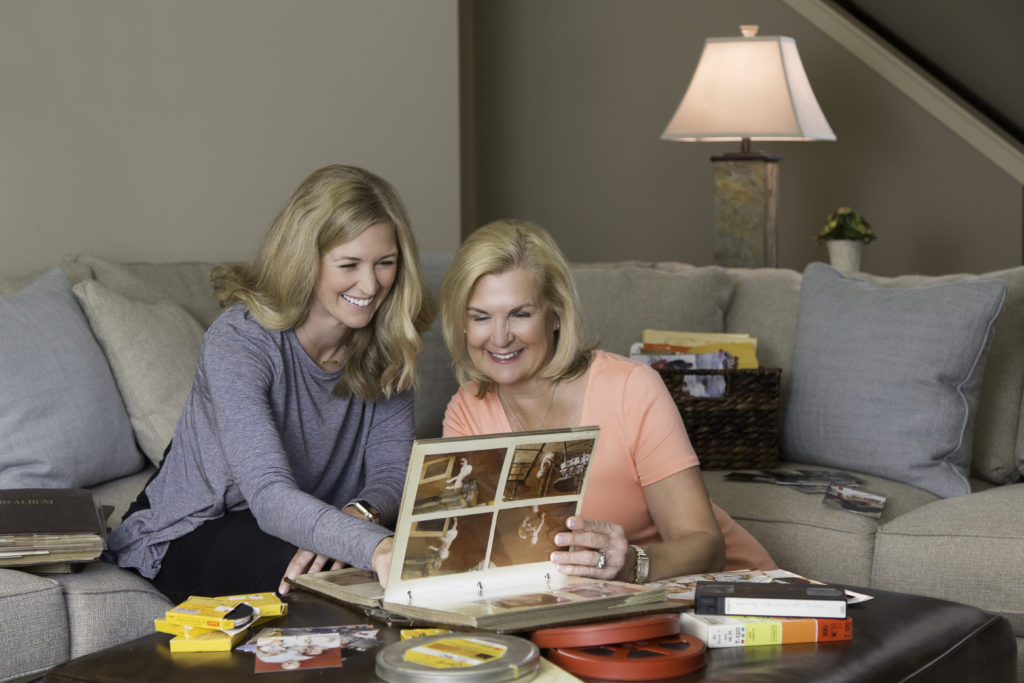 Now You Can Restore Your Old  Tapes, Film, Videos, and Photos!  
Do you have tons of photos, films, and old tapes laying around that you would love to have stored on your phone or computer? iMemories has found a way to take all of those nearly unusable old formats and put them into an ultra-high quality digital format! You can now access those memories on your phone or computer.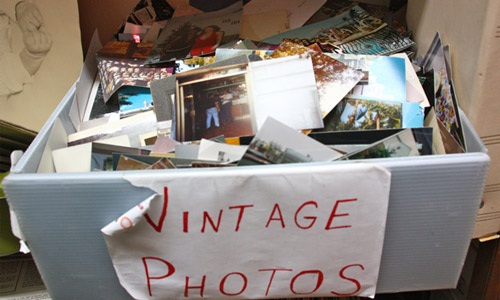 It's called iMemories. It's an amazing company that transfers old home movies, photos, and film into ultra-high quality digital and DVD.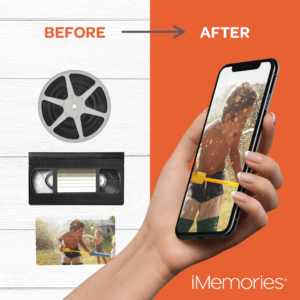 I mean, is there anything more important than creating a life filled with family, friends, love and laughter? No! But what's the next best thing? It's the ability to relive all of those special moments, frozen in time on video, film and photos.
And now you have the ability to easily and instantly relive and share those memories is easier and more affordable than you think!
Watch this video to see how easy it is…
Easy and completely hassle-free. Here's all you do…
Step 1: Order their SafeShip Kit, which is a crush-proof, ultra-durable shipping box to protect all your photos and videos.
Step 2: Place your tapes, film, videos, and photos in their SafeShip Kit WITHOUT any labeling or organizing beforehand.
Step 3: Ship the kit back for FREE using the prepaid UPS shipping label they include in your box.
After iMemories receives and scans everything, you'll get a 100% Risk-Free Quote before they digitize anything! This way, you get to choose what gets digitized and you control how much you pay!
Of course, preserving a lifetime of memories to pass down to future generations is important. But more than that, you'll be able to…
Easily find and view photos and videos on her TV, computer, tablet, or even smartphone (their free app works with both iOS and Droid).
Instantly share her memories with her friends and family on Facebook, email, or even text.
Create custom DVDs as Christmas gifts (expect it next year
) easily and quickly from their website.
Quickly and securely download all her memories to your computer or flash-drive for safe-keeping.
Easily organize and edit your photos and videos with their simple drag-and-drop software.
This will bring years of enjoyment – getting to instantly view and share your most treasured memories with friends and family no matter where they are in the world!
Can They Fix Broken Film And Photos?
YES! Broken, faded, cracked, washed out, you name it… iMemories can fix, clean up, enhance and rejuvenate your mom's old photos and film, like this…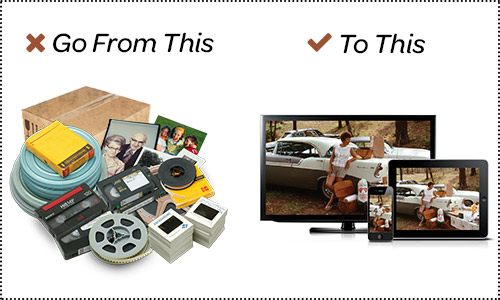 They'll look so vibrant and clear, your mom will think they were taken yesterday.
⭐⭐⭐⭐⭐
"I could not be happier with iMemories"
I wanted to convert my parents wedding album to DVD so I could share copies with my siblings at a planned get together. I delayed and was running short of time, so I just had iMemories load the pictures straight to DVD. It looks great! I plan to go through the rest of my photos and send more in.
~ Nora H.
⭐⭐⭐⭐⭐
"Their work is perfect!"
iMemories is the best thing I've ever spent my money on! Trust these folks. you won't be sorry. Their work is perfect!
~ Sheila
Will I Get The Originals Back?
iMemories has NEVER lost a single memory because they're tracked every step of the way. So you can rest assured knowing that when you ship off those cherished memories, they will return to you safe and sound!
How Much Will This Cost Me To Get Started?
Just the low cost of their SafeShip Kit. It's normally 29.99, but it looks like they're still offering their SafeShip Kits at 50% OFF – so you can get one for only 14.99! (Which includes a FREE shipping label and a Risk-FREE Quote.)
As of today, iMemories is still offering a great deal so you can get your memories digitized. Right now you can get…
Home Movies To Digital – Videotapes and Film
Normally 19.99 per tape or per 50ft, right now is ONLY 11.99 per!
Photos To Digital – Photos, Negatives, and Slides
Normally 0.79 each, right now is ONLY 0.49 each!
iMemories Are The Leading Digitizing Experts!
iMemories has been digitizing family's memories since 2006. They have converted more than 15 million tapes, film, and photos for over 253,000 families.
Amazingly, other similar companies charge approximately $500 for 20 tapes, 20 films or 500 photos. iMemories on the other hand, will digitize the same number of tapes, film, or photos for ONLY $240! That's less than half!
Plus, with iMemories, you get to see all your photos, film, and videos BEFORE you pay to have them digitized! Other companies don't do that!
This is an advertisement and not an actual news article, blog, or consumer protection update.
The story depicted on this site and the person depicted in the story are not actual news. Rather, this story is based on the results that some people who have used these products have achieved. The results portrayed in the story and in the comments are illustrative, and may not be the results that you achieve with these products. This page could receive compensation for clicks on or purchase of products featured on this site.
© 2019 All Rights Reserved. Privacy Policy Terms of Use