This Game-Changing Tissue Pack Is Driving Disposable Tissues Into Extinction (Here's Why)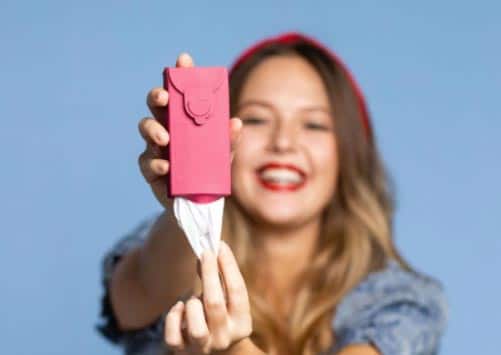 Quick question: What do you do when you get the sniffles?
Or, let's say someone just started crying – ruining their makeup in the process. How do you dry those tears (and spot-clean mascara)?!
Oh, boy. Now there's a smudge on your phone screen… how do you take care of it quickly?
If you're like most people, you probably reach for a pack of disposable paper tissues in all these cases. And I totally understand why: they're convenient and they get the job done.
However, I've recently learned that disposable tissues have a nasty side – literally! Not only do they take up much more space (both in your pocket and in storage), they're horrible for the environment.
At this rate, we're losing 18.7 million acres of forests annually – that's 27 soccer fields destroyed every minute!¹ – that's INSANE!
And of course, tissue packs aren't even close to perfect. If you're not near a garbage bin, you're carrying around a pile of nasty trash after a sneeze or two (or you're leaving behind a trail of litter).
So, yeah. Disposable tissues leave a lot to be desired. But they're all we have. Right?
Well… not for long. Because soon, we'll all be carrying around LastTissue – the world's first completely washable, hygienic tissue pack. Not only is it much cleaner (yes! really!) and cheaper than today's disposable tissues, it also provides a MUCH better "tissue experience" thanks to the soft handkerchiefs inside – and of course, it's healthier for our planet.
I think you'll agree that this is a genius idea… just wait until you see how it works!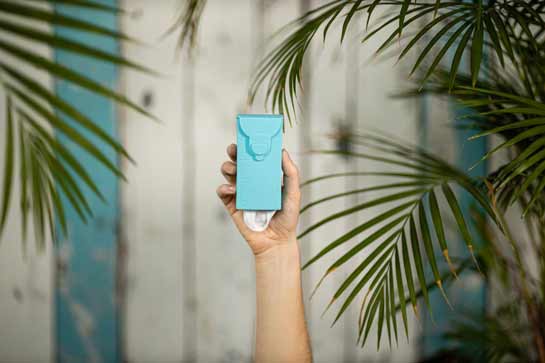 In a nutshell: LastTissue is the world's first eco-friendly "washable tissue pack".
It replaces your disposable single-use tissues, offering a perfectly clean tissue (well, they're more like handkerchiefs) anytime you need.
With LastTissue, you don't throw away the "leftovers". You simply add them to the top section (above the hidden hygienic barrier), then forget about 'em until you get home – where they can easily be added to the laundry.
The LastTissue Pack comes with 6 ultra-soft organic cotton tissues, so this isn't just a cheaper, more convenient and eco-friendly option – the tissues are also much more pleasant than paper tissues!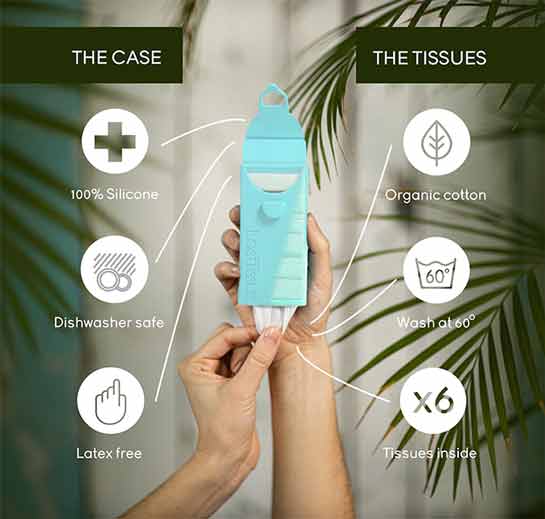 This is a game-changer, especially for anyone who needs tissues around like I do. I love the idea that I'm not creating waste – and clearly, I'm not alone. Their crowdfunding campaigns were a huge hit, quickly raising over $1.5 million!
And to top it all off, the handkerchiefs themselves are delightful – you can feel the quality in each one. I almost look forward to sniffles!
How do you use LastTissue?
Using LastTissue is just as easy as a normal tissue pack:
1. When you need a tissue (for any reason), simply grab a LastTissue from the bottom of the carry case where the clean tissues are dispensed.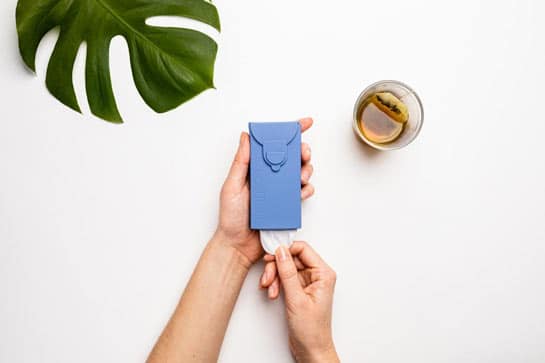 2. Use the tissue – LastTissue comes with 6 delightfully soft 100% organic cotton tissues – great for runny noses, allergies, along with other things like cleaning off your glasses, phone, or even pressing the dirty elevator button.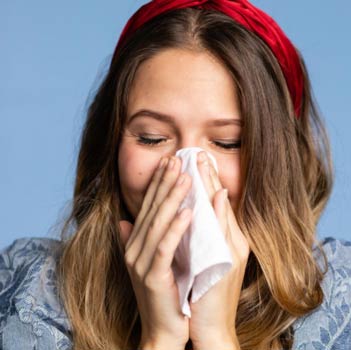 3. Store the used LastTissue in the hidden hygienic barrier and carry on with your day. (Don't worry… thanks to the medical-grade silicone barrier, the dirty tissues never touch the clean ones!)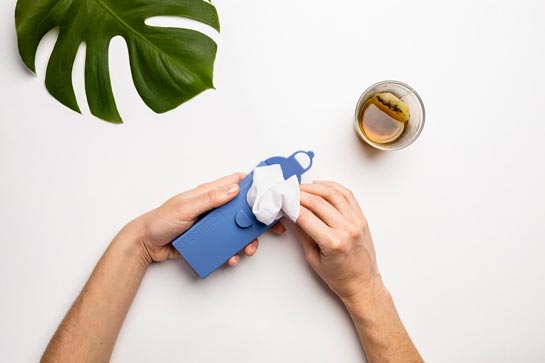 Sounds simple, right? That's because it is!
If you're like me, then everything sounds great so far. But I'm sure you also have one BIG question…
But wait… How do you keep them clean?!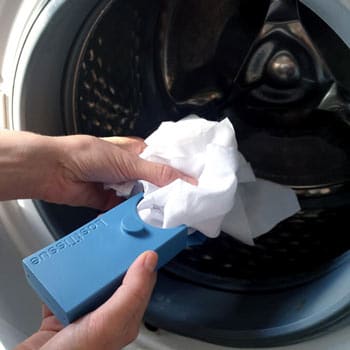 When I first heard about LastTissue, I thought it was a good idea – of course I'd rather reuse clean, soft handkerchiefs instead of constantly throwing away paper!
But I also wondered something: What's the difference between using LastTissue and carrying around multiple handkerchiefs?
Well, there's actually a good answer to this – and it comes down to the unique design of the LastTissue package.
Each LastTissue package includes a hidden hygienic barrier, which splits the package into two compartments: the bottom, where you get the clean tissues, and the top – where the dirty ones are stored separately.
Yes – this means the dirty tissues NEVER touch the clean ones!
It doesn't look like much, but it really makes all the difference. A fresh, soft tissue appears in my life exactly when I need it… and just as quickly, it's gone again – out of sight and out of mind.
Finally, they're super easy to wash. I add my LastTissues to the laundry once a week – they fit right in with the rest of the load. Then you just stuff 'em back in the pack and you're ready to go!
Yes, the handkerchief is fashionable again – and it's better than ever!
I've had my LastTissues for about a month now, and I'll be honest – I'm still not sure exactly how to describe LastTissue to my friends.
Is it "the hygienic handkerchief"? Or is it the "never-ending, eco-friendly tissue pack"?
The answer, of course, doesn't matter – it's both. To me, LastTissue is simply a handkerchief that's always clean and ready to be used. It's the end of wasteful, bulky disposable packs… and the beginning of fresh, clean noses (and dry eyes) without the hassle or mess.
Bottom line: LastTissues are more comfortable, convenient, hygienic, affordable, and 100% better for the environment than those trashy disposable tissues. There's no downside here… if you ask me, everyone should have a pack!
UPDATE: Here's where to get the best deal on LastTissue!
LastTissue is now available nationwide – and even better, they're offering a bunch of special "early bird discounts"… so this is the perfect time to stock up!
While each pack should last you quite a while, they're great gifts for those snifflers in your life – and it's great to have one in the car just in case. If the link below still works, then the discount is still available… go for it!
THIS IS AN ADVERTISEMENT AND NOT AN ACTUAL NEWS ARTICLE, BLOG, OR CONSUMER PROTECTION UPDATE 
MARKETING DISCLOSURE: This website is a market place. As such you should know that the owner has a monetary connection to the product and services advertised on the site. The owner receives payment whenever a qualified lead is referred but that is the extent of it. 
ADVERTISING DISCLOSURE: This website and the products & services referred to on the site are advertising marketplaces. This website is an advertisement and not a news publication. Any photographs of persons used on this site are models. The owner of this site and of the products and services referred to on this site only provides a service where consumers can obtain and compare. 
© 2019 All Rights Reserved. Privacy Policy Terms of Use