I Replaced My Tangled Mess of Charging Cables with a Smart Charging Station!
October 12, 2019 at 08:32am EDT | Sponsored by MaiCharging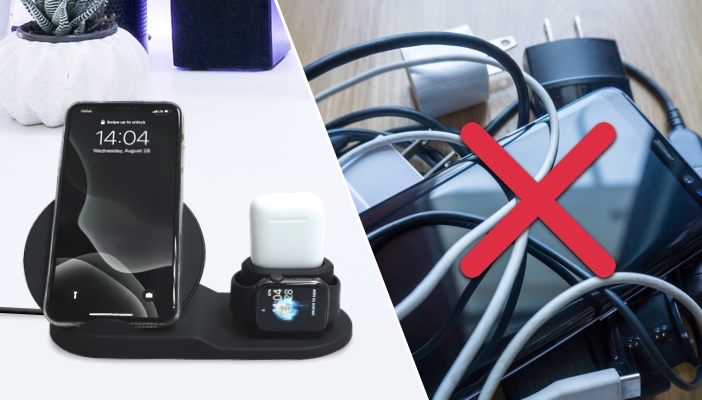 MaiCharging is the Ultimate Apple Charger! There's Finally a Way to Charge Your Phone, AirPods, and Apple Watch— All at Once!
I've been a huge Apple addict ever since the first iPod came out.
I love their phones, their computers, everything really! Their products make life easier, they're beautifully designed, and let's face it, they're just plain cool!
I've got an iPhone X, a pair of AirPods, and an Apple Watch – and I use them pretty much every day. It's just so convenient the way they all seamlessly connect with each other.
There's only one problem with having that many wireless devices – the batteries drain fast. I need to constantly charge them throughout the day, and that gets a little complicated…
My Apartment Was Overrun with Charging Cables!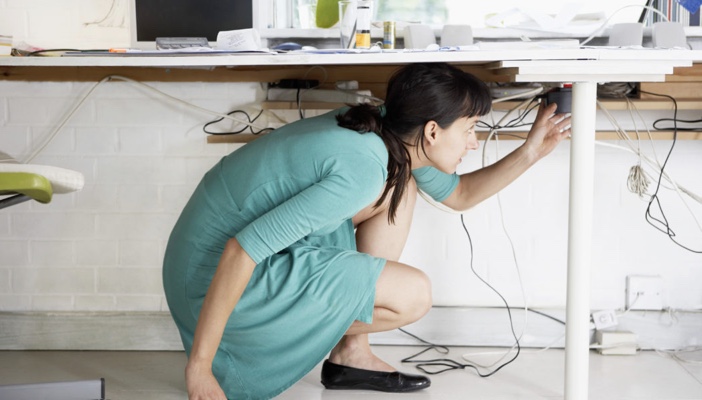 Like most people, I like to charge my devices overnight, so I keep all my chargers plugged in by my bedside table.
Well, three charging cables plus my lamp and alarm clock radio makes one giant disorganized mess of cables. I had to get an extension cord with a power bar just to handle all the plugs.
The cables are constantly getting tangled together, so it's impossible to grab one device without tugging on another. There's been plenty of times when I've accidentally yanked out a cable in the middle of charging, which can actually damage the device.
It doesn't take long for the cords to get frayed and the connector pins wear out from all the constant plugging and unplugging. I've had to buy two new cables this year to replace the old ones, and at $25 bucks a pop, that ain't cheap!
The whole thing is a huge eyesore, and with the risk of a short circuit, it could even start a fire.
Wireless Charging Pads Aren't Any Better!
Since cables were slowing me down, I decided to get a wireless charging pad, but that only made the problem worse.
Even though it was "wireless", it still had a cable attached so it didn't clear up any space. On top of that, it didn't even work well! My phone had to be PERFECTLY centered or it wouldn't charge at all.
It was also really slow. If I left my phone lying on the pad for 20 minutes, I would only get a 4% charge.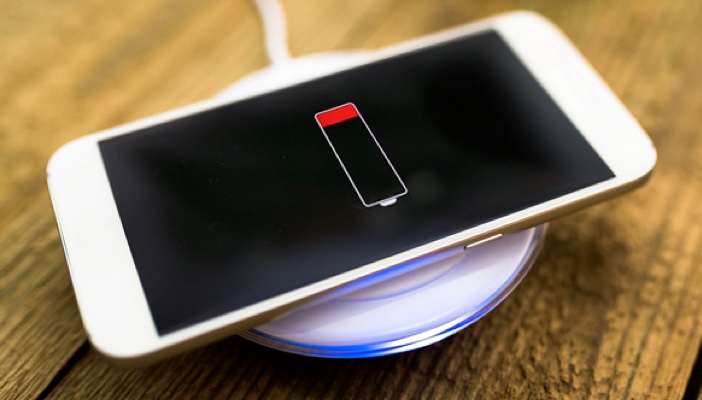 I just didn't understand! Apple prides themselves on making devices that work seamlessly together, so why haven't they made a good multi-charger? Well as it turns out, they tried to.
You might remember Apple announced something called "AirPower" back in 2017— a wireless charging mat that could charge all your devices at once.
I was thrilled when I first heard about it! I waited and waited, but they kept pushing back the release date, until finally they announced this year… that it was cancelled! They just couldn't figure out a way to make the design work.
At first, I thought the dream was dead, but I read a lot of tech blogs and I recently came across one talking about something called MaiCharging.
MaiCharging is the All-In-One Charger That Apple Wish They Had Made!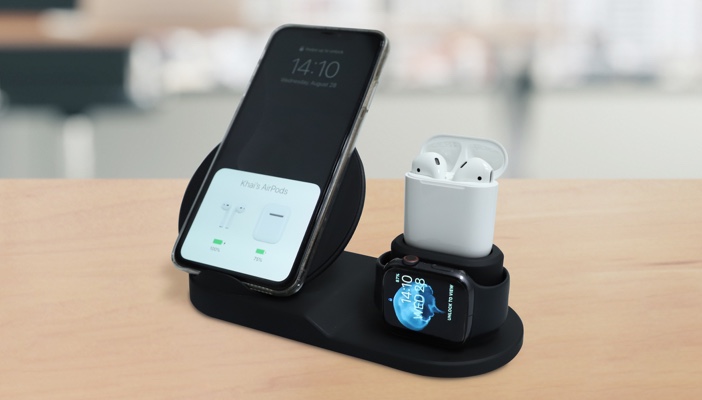 A group of engineers in Hong Kong took the original AirPower design and re-worked it into a wireless charging station called MaiCharging.
This thing is more than just a charging pad, it's a multi-charging power hub for ALL your Apple devices!
It's got three charging docks specifically designed for your AirPods, Apple Watch, and iPhone. The phone dock uses Qi wireless charging, so it works with Android smartphones too.
The best part is, not only is the entire station is powered by a single power cord, it also supports fast charging! That means you can charge a totally dead phone up to 50% in less than 30 minutes.
With MaiCharging, there's no more fumbling around with a tangled mess of cables and plugs. You can charge everything with a single cable!
The more I read, the more I realized this was the Apple charger I had been dreaming of! I ordered a MaiCharging station right away and this is what happened:
1. I went to the MaiCharging website HERE. Make sure you only order from the official site; there are plenty of knockoffs out there, but only MaiCharging offers fast, effortless charging for ALL your Apple devices.
3. I got rid of all my old charging cables and pads and setup the MaiCharging Station on my desk. There was only one cable to plug in!
4. Now any time I want to charge my iPhone, AirPods, or Apple Watch, I just drop them into place and they connect automatically. My devices charge REALLY fast and they're always ready to go.
MaiCharging Does What No Other Wireless Charger Can!
FINALLY, there's a way to keep all my devices charged without ugly charging cables lying all over the place.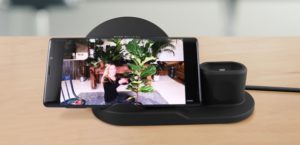 And unlike charging pads, MaiCharging keeps everything propped up, so I can still use my phone and watch while they're charging. I don't even need my alarm clock anymore!
The design is also really slick and polished. Apple products look cool, so it's nice to have a charger that actually shows them off.
If you're like me and own multiple Apple Products, this is the charger you've been waiting for. Even if you use an Android phone, MaiCharging is still the best wireless charger money can buy.
Last time I checked, MaiCharging was running a HUGE sale! This might be your only chance to get this all-in-one charger at a crazy low price, so don't wait until it's too late!
This is an advertisement and not an actual news article, blog, or consumer protection update.
The story depicted on this site and the person depicted in the story are not actual news. Rather, this story is based on the results that some people who have used these products have achieved. The results portrayed in the story and in the comments are illustrative, and may not be the results that you achieve with these products. This page could receive compensation for clicks on or purchase of products featured on this site.
© 2019 All Rights Reserved. Privacy Policy Terms of Use