NEW Life-Saving Tool Is a Must-Have For Any Emergency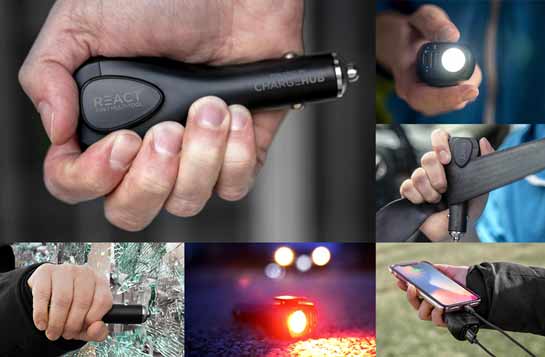 Experts agree there's no reason why every car owner shouldn't have one.
There are over 5.4 million car crashes every year in the USA.¹ While we'd all like to think that we or our loved ones will never experience a serious car accident, it pays to be prepared.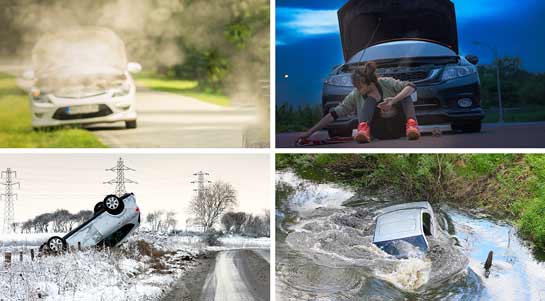 Car safety experts have argued for years that drivers should carry window smashers and seat belt cutters that are easily accessible in a car wreck.
However, even if you are one of the few drivers that carry these safety devices, you've probably kept them in your glovebox or trunk – dangerously far out of reach during an accident.
Safety devices are useless if you can't reach them during an unexpected or dangerous situation.
Fortunately, a new revolutionary device just hit the market that solves this problem.
Introducing React: The Future Of Car Safety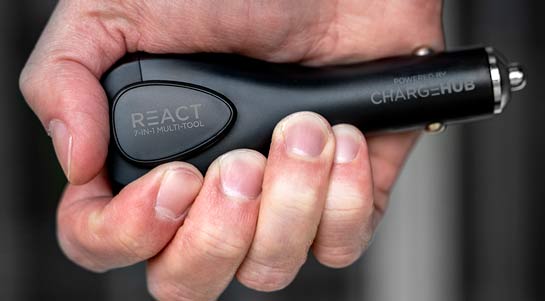 React is a 7-in-1 car charger that could save your life. It's packed with 7 powerful life-saving features designed to keep you and your family safe, whether you're stranded on the side of the road at night, trapped inside a burning or sinking vehicle, or experiencing any other emergency.
Even better – React is made with the highest-quality materials and plugs right into your cigarette lighter (12V) port, allowing it to stay in place so it's easy to grab when you need it most.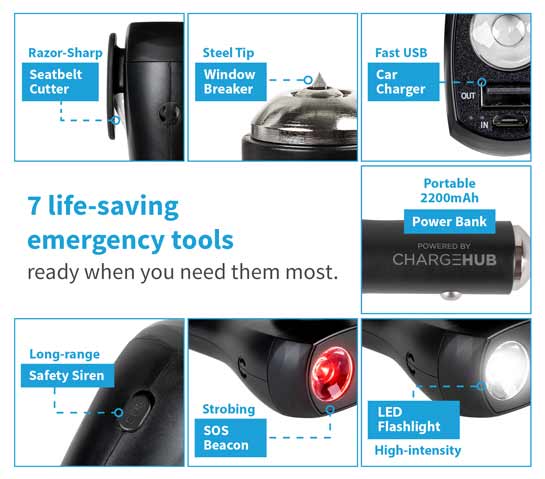 It's incredible how much value they've engineered into such a small hand-held device:
✅   Razor-sharp Seat Belt Cutter
✅   Steel Tip Window Breaker
✅   Lightning-Fast USB Car Charger
✅   Long-lasting (2200mAh) Power Bank
✅   Ultra-bright (140 Lumen) LED Flashlight
✅   Strobing Red SOS Beacon
✅   Long-range Safety Siren
Let's take a closer look at each…
The Escape Tools: Window Breaker & Seatbelt Cutter

These must-have escape tools will allow you to quickly and easily free yourself and others from trapped vehicles. This is especially helpful if you get stuck in your car while it's sinking, on fire, or upside down.
The Seatbelt Cutter is sharp enough to easily slice through seat belts, yet designed to be safe enough to avoid accidentally cutting anyone. The Window Breaker's solid steel spring-loaded tip is the secret sauce to cleanly break almost any car window with ease.
Most importantly, you don't have to be strong or experienced with this tool – both features are easy to use and are designed to work on the first try.
The Rescue Tools: SOS Light & Safety Siren

There's no convenient time for your car to break down, but being stranded at night on the shoulder of the highway is very dangerous – and you'd be surprised how easily it can happen after dark.
That's where React's SOS Beacon and Safety Siren come in handy.
The SOS Beacon is a powerful red strobing light that can be seen for hundreds of yards. Having this tool is critical for preventing cars from slamming into you at night when you're changing a flat or waiting for a tow truck to arrive.
The long-range Safety Siren is also a must-have feature for warding off unwanted guests or getting someone's attention from far away if you need it – it's surprisingly loud for its speaker size.
The SOS Beacon and Safety Siren can both be activated by clicking a single button. Talk about convenient.
The Everyday Utility Tools: Chargers & Flashlight

If you didn't know already, React is made by ChargeHub, a leader in portable charging technology – meaning it's a high-quality product that's built to last.
Knowing their reputation, I was confident these features wouldn't disappoint: the 2200 mAh power bank, the lightning fast car charger, and the ultra-bright LED flashlight.
React's lightning-fast USB Car Charger uses patented SmartSpeed Technology to super charge your phone in minutes. It's hands down the fastest charger I've ever owned.
And the super-convenient Portable Power Bank is for more than just making that last emergency call when you're stranded and realize your phone is dead – it's also great for on-the-go charging.
Best Part? React will even charge your phone up to 100% on one stored charge (no power source needed)!
This power storage really shines when looking at its high-intensity LED flashlight. It lasts up to 4 hours, so I never have to worry about it dying on me. I use it for any night-time roadside issues like changing a blown tire, looking under the hood, searching the trunk, or finding something under my seats!
The bottom line: React guarantees you'll have life-saving tools within arms reach when you need them most.
React is one of those devices that I never realized how much I needed until I had it – and now I'm extremely glad I do. Not only does it give me the peace of mind knowing my family and I are prepared for any emergency, but it's also useful for non-emergency situations as well!
Fortunately, I haven't had to use the escape tools yet, but I've already used the flashlight multiple times and we use the power bank and charger almost every day now (they're super convenient!). My wife and daughter also carry them in their purses for the Safety Siren feature – it makes them feel safer when walking to and from their car at night.
So as you can see, my family and I are big fans of having this tool with us at all times and I think you will too. So I highly recommend you check out React.
Here's where to get the best price on ChargeHub React
Hey everyone, thanks for all your comments! Many of you asked about where to find ChargeHub React at the best price. Well, how about getting one for FREE?!
Yup – right now the creators are offering you a FREE React Emergency Tool when you buy 2. Last I checked the "buy 2 get 1 free" deal was still working! This could be smart to check out – it makes a great gift, especially for seniors, young drivers, or anyone with kids. I'm not sure how long these new deals will last.
THIS IS AN ADVERTISEMENT AND NOT AN ACTUAL NEWS ARTICLE, BLOG, OR CONSUMER PROTECTION UPDATE 
MARKETING DISCLOSURE: This website is a market place. As such you should know that the owner has a monetary connection to the product and services advertised on the site. The owner receives payment whenever a qualified lead is referred but that is the extent of it. 
ADVERTISING DISCLOSURE: This website and the products & services referred to on the site are advertising marketplaces. This website is an advertisement and not a news publication. Any photographs of persons used on this site are models. The owner of this site and of the products and services referred to on this site only provides a service where consumers can obtain and compare. 
© 2019 All Rights Reserved. Privacy Policy Terms of Use